STATEMENT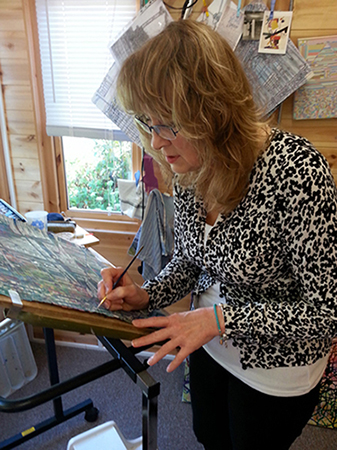 I explore the multifaceted identity of architecture by looking at the impact of buildings on their surroundings and how they reflect and absorb them, creating a new perception designed to awaken the imagination of the viewer.
I see the patterns and spaces within the subject, between the architectural forms, that maintain the integrity of the structure.
By deconstructing the image, reducing it to the shapes and grids that hold it together I try to capture those transitory glimpses of shadows, reflections, sunbursts, clouds, people, passing objects, chance and accidental elements that have contributed to the way the landscape looked at that moment in time. The final composition recalls my original fleeting experience.
The reassembled architecture explores the relationship between the inside and outside of a place; the face presented to the world and the life that thrives within, blending and blurring to create structural harmony.
Using watercolour and acrylic washes, is both a parallel and a metaphor that solid structures have been converted into more fragile ephemeral entities through the medium of water-based paints. The painting emerges as a unique vibrant interplay of organic and geometric shapes that blend the concepts of abstract and realism.